Over the years, many players entered the Hoop Dreams gym with a dream and a goal. For most it was never about playing at the next level, it was more about pushing themselves personally. To build confidence, sharpen their basketball skills and experience competitive game play to make the middle school team or travel team. To learn from some of the best basketball coaches in Rhode Island and Southern Massachusetts and maybe realize a dream to play at the high school or prep school level and for some, the collegiate level.
With almost ten years of training there are so many players who have made an impact on the Hoop Dreams team and inspired us. Over the next few weeks we will dive a little deeper into some of the players journeys, check in to see where they are today and ask them to share some of the lessons or pieces of advice, they learned through their years in the Hoop Dreams with Chris Herren gym.
One of the first players to walk into the gym was Andrew Chrabascz. Coming off a stellar Freshman season at Portsmouth High School, the 6'7" forward was looking for personalized training to get his game to the next level. His father who had played college ball and then professionally, had heard that Chris was starting to train players and Andrew was ready to learn.
Andrew spent long hours in the gym, with the drive to get better and the work ethic to never settle. From a state title at Portsmouth High School in Portsmouth, RI to Cushing Academy and winning the NEPSAC championship, to accepting a full scholarship to Butler University and scoring 1,271 points during his college career, Andrew Chrabascz has accomplished his dreams on and off the court.
We recently caught up with Andrew who is in his second year playing professional basketball in Belgium and asked him to share some thoughts about his time in the gym with Chris and the Hoop Dreams team.
What do remember most about the skills you were taught on and off the court?
"Chris helped me so much with skills both on and off the court. But the relationship we instantly made will always be the best part."
If you could share one moment, piece of advice or lesson from your experience in the Hoop Dreams gym what would it be?
"Don't ever let someone outwork you. I wasn't always the most talented player in the Hoop Dreams gym, but Chris drilled the mentality of always being the hardest worker. With that mindset I have now put myself in a profession I have always dreamed about."
Learn more about Andrew's journey and the impact Chris and the Hoop Dreams team had as chronicled by Fox Sports during Andrew's Senior season at Butler.
One Dream: Andrew Chrabascz
[vimeo 206237583 w=640 h=360]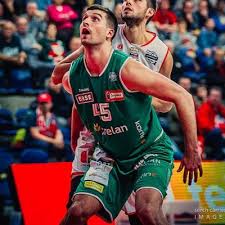 As we look to 2019 and celebrating 10 years of impacting lives on and off the basketball court, we are grateful for Chris's willingness to share and the resolve to use his life experience to reach JUST ONE and make a difference.